Atlanta Newborn Photography
Newborn babies are one of the most rewarding and challenging ages to photograph. We recommend doing their first newborn photography session within 7-12 days of being born to ensure we get the sweet, sleepy poses. It's important to capture the small, precious details because babies change and grow so quickly. In our role as your go to Atlanta newborn photographer, we guarantee to get amazing photographs of your bundle of joy.
Sessions typically last anywhere from 1.5 to 4 hours. Atlanta Newborn Photography caters to each individual baby and their needs. Between the feedings, diaper changes, posing, changings outfits/wraps and everything in between, rest assured we have it covered. Our client's baby's safety is our number one priority at Atlanta Newborn Photography.
In our studio, we have an array of photography props to choose from. Such as: wraps, blankets, baskets, hats and much more! Sometimes it's difficult for parents to leave the house due to their busy schedules. So, we offer newborn photography sessions in our studio and in our client's homes. You can come to us, or we can pack up our newborn props and come to you. Most of the time we shoot in natural light for home photography sessions. However, if your home is on the dark side, we'll bring our studio lighting to you!
We keep the scheduling and session process easy from the very beginning to end. As your go to Atlanta newborn photographer, we want our client's to be comfortable and relaxed. While you are picking out the props for the session, we hold your baby for a few minutes before we begin shooting. We want them to feel safe and secure with us. Our goal at Atlanta Newborn Photography is to build long lasting relationships and produce beautiful photographs for families that last a lifetime.
To help the photography session process run smoothly for us and our client's, we have come up with some helpful tips. Let us know if you have any questions. We are an open book! Please review the suggestions below.
1. Schedule a newborn session about a month prior to your due date or sooner if you wish.
2. Try to keep your baby awake a couple hours before the session, if possible.
3. We ask that you feed your little one once you arrive in the studio or once we arrive at your home.
4. Please bring a pacifier or something that helps soothe your newborn.
5. Feel free to bring personal props to your session. Just let us know ahead of time.
6. Please do not stress. We aim to make your newborn photography session an enjoyable experience.
Atlanta Newborn Photographer Pricing
Each newborn photography package includes a home or studio session, online gallery to choose your photographs, a high resolution CD of retouched images and print release. Parents and siblings are welcome with no additional fees. Every client receives a free online slideshow of their photographs to share with friends and family. Please keep in mind when browsing our newborn photography packages that a lot of time goes into each session before, during and after. Don't see something you want or need? Atlanta Newborn Photography will create a custom package just for you.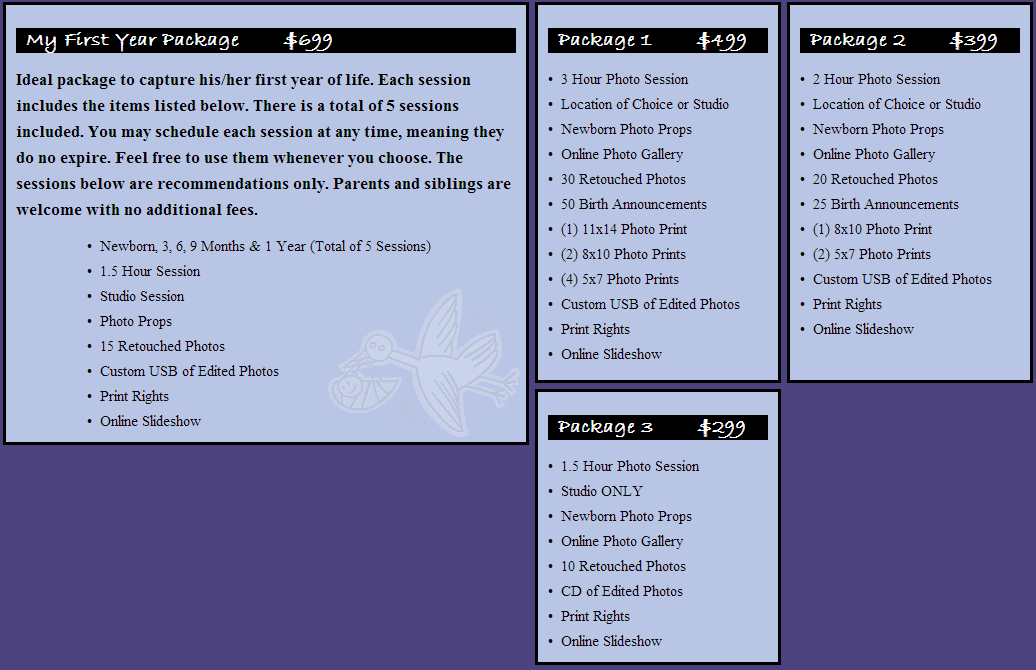 My First Year Package
$699
Ideal package to capture his/her first year of life. Each session includes the items listed below. There is a total of 5 sessions included. You may schedule each session at any time, meaning they do no expire. Feel free to use them whenever you choose. The sessions below are recommendations only. Parents and siblings are welcome with no additional fees.
• Newborn, 3, 6, 9 Months & 1 Year (Total of 5 Sessions)
• 1.5 Hour Session
• Studio Session
• Photo Props
• 15 Retouched Photos
• Custom USB of Edited Photos
• Print Rights
• Online Slideshow
Package 1
$499
• 3 Hour Photo Session
• Location of Choice or Studio
• Newborn Photo Props
• Online Photo Gallery
• 30 Retouched Photos
• 50 Birth Announcements
• (1) 11x14 Photo Print
• (2) 8x10 Photo Prints
• (4) 5x7 Photo Prints
• Custom USB of Edited Photos
• Print Rights
• Online Slideshow
Package 2
$399
• 2 Hour Photo Session
• Location of Choice or Studio
• Newborn Photo Props
• Online Photo Gallery
• 20 Retouched Photos
• 25 Birth Announcements
• (1) 8x10 Photo Print
• (2) 5x7 Photo Prints
• Custom USB of Edited Photos
• Print Rights
• Online Slideshow
Package 3
$299
• 1.5 Hour Photo Session
• Studio ONLY
• Newborn Photo Props
• Online Photo Gallery
• 10 Retouched Photos
• CD of Edited Photos
• Print Rights
• Online Slideshow
Optional Add-ons:
Digital Files, Prints, Photo Books, Gallery Wraps, Wall Mount Standouts, Photo Cards